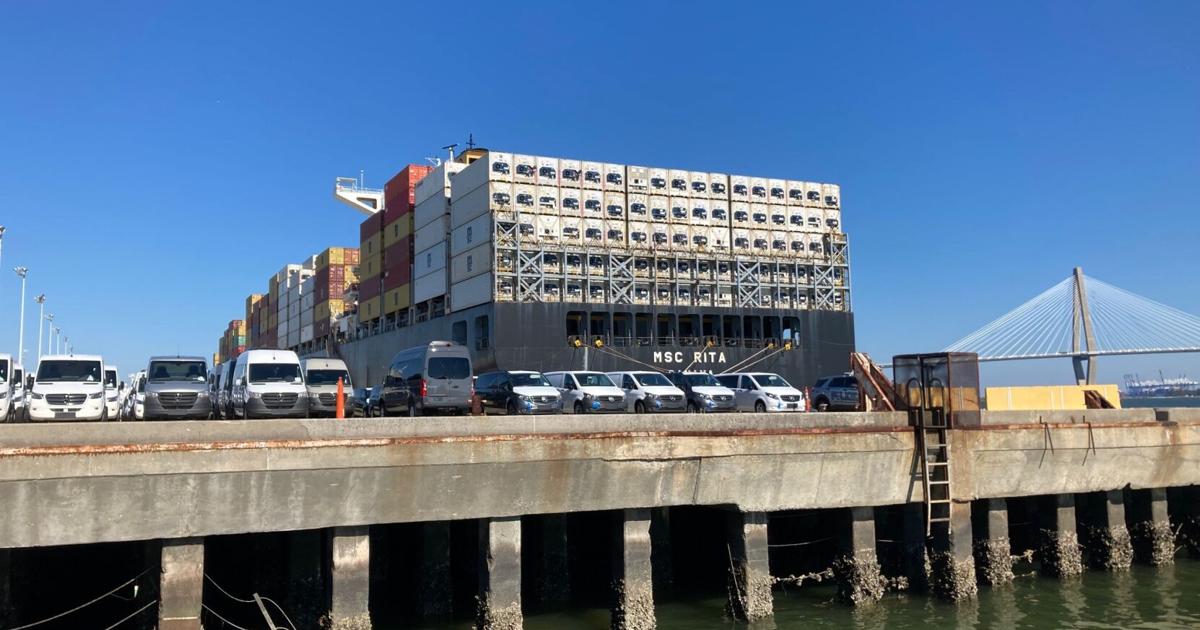 A large freighter involved in a collision at sea is repaired in Charleston |
A container ship that arrived in North Charleston after colliding at sea with a smaller vessel last week has been moved to the peninsula, where it is undergoing structural repairs.
Mediterranean Shipping Co.'s MSC Rita was moved Nov. 3 from the State Ports Authority's Leatherman Terminal to the former Navy base downriver from the shipping agency's Columbus Street Terminal.
The repair work includes replacing some of the thick steel plating that makes up the hull. A barge fitted with a crane was parked near the bow on the starboard side of the 1,063ft long boxship.
"MSC has secured a repair team for the vessel and the necessary repairs will take place over the next week," the company said in a Nov. 4 statement. "Once completed, the vessel will resume its schedule without delay and unload the cargo at the next port of call."
The MSC Rita was sailing from New York to the Wando Welch Terminal in the Port of Charleston when it and the 115ft commercial fishing trawler Tremont collided around 1am on October 28.
Both vessels were about 60 miles off Norfolk, Virginia.
No one aboard the freighter or the Tremont was injured, but the smaller boat later sank.
The captain of the fishing trawler and 12 passengers, including a child, were rescued during a late night effort involving the US Coast Guard and two civilian vessels that were in the area.
The cause of the collision is under investigation. The Virginia Coast Guard said the investigation was not complete Friday.
A key question will be why the MSC Rita continued to Charleston. The vessel's operator said it would cooperate fully with investigators.
"Our first priority is to understand the circumstances that led to this unfortunate incident, and we remain closely informed of developments as they unfold," the company said.
MSC Rita was due to work at the Wando Welch in Mount Pleasant and depart on October 29, according to the SPA ship schedule.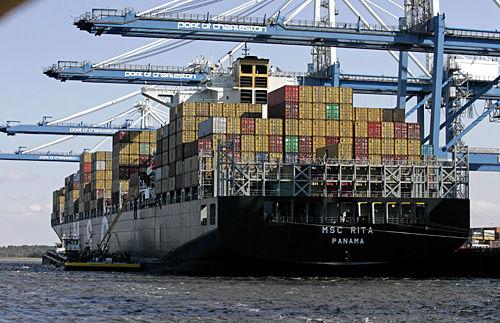 It is unclear whether it was moved from North Charleston to free up dock space for another container ship. The Columbus Street terminal is now primarily used for the export of upstate-made BMW automobiles and other vehicles.
The Port Authority did not respond to requests for comment this week.
The Panamanian-flagged MSC Rita, which can carry the equivalent of 8,100 20-foot-long containers, is a frequent visitor to the South Carolina waterfront. It briefly held the title of largest freighter to ever call at Charleston on its maiden voyage in 2010.
Mediterranean Shipping is one of the largest shipping carriers in the port.
Earlier this year, the company's US division announced plans to add to its existing Mount Pleasant operation and move an office to the Lowcountry. The expansion is expected to increase the size of the local workforce from around 135 to 500.
Contact John McDermott at 843-937-5572 or follow him on Twitter at @byjohnmcdermott