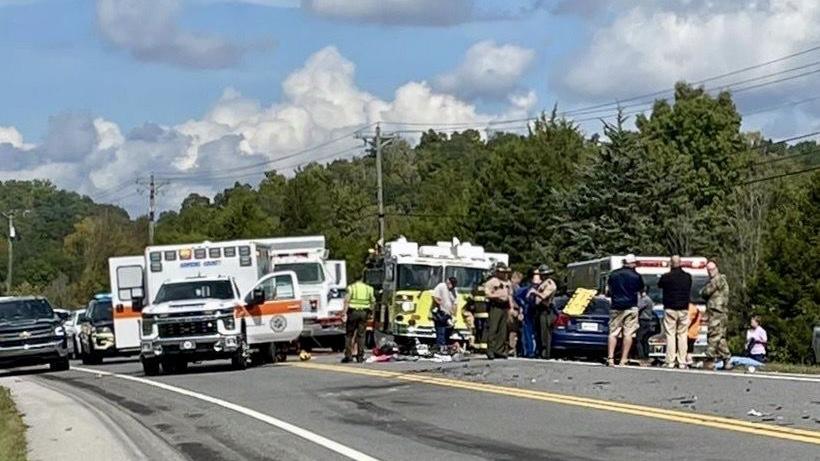 A person has taken flight from a collision between a car and a tractor unit on the highway. 66S, fuel leak contained | Rogersville
[ad_1]
A victim was seriously injured from a plane in a collision on Rt. 66 Monday afternoon involving a Honda Civic which crossed the center line in the path of a semi-trailer.
Tennessee Highway Patrol Trooper John Tunnell said in his report that around 1 p.m. Monday, a 2004 Honda Civic driven by Amanda Wright, 35, of Greeneville, was heading north on the road. 66S.
Tunnell said the Civic crossed the center line near the Old Rt. 66 intersection in the path of a southbound 2019 Freightliner tractor-trailer driven by Steven Eary, 29, of Rogersville.
The Civic struck the semi-trailer on the front left side, Tunnell reported.
A report from the Hawkins County Rescue Team said extensive extrication was required to remove Wright from the Civic.
Wright was flown by Highland Rescue and Emergency Airlift from the scene to Johnson City Medical Center for treatment.
Tunnell said in his report that charges were pending against Wright. Eary was not injured.
The semi-trailer sustained fuel tank damage resulting in a leak which was contained by the Hawkins County Emergency Response Team / HAZMAT and the Persian Volunteer Fire Department.
Hawkins County EMA Director Jamie Miller said an environmental clean-up team had been hired to further deal with the spill.
Other agencies that responded to the crash included Hawkins County EMS, the Hawkins County Sheriff's Office, and the Bulls Gap Volunteer Fire Department. The HCRS expressed its gratitude to the Church Hill Rescue Squad for covering their territory during the rescue operation.
[ad_2]