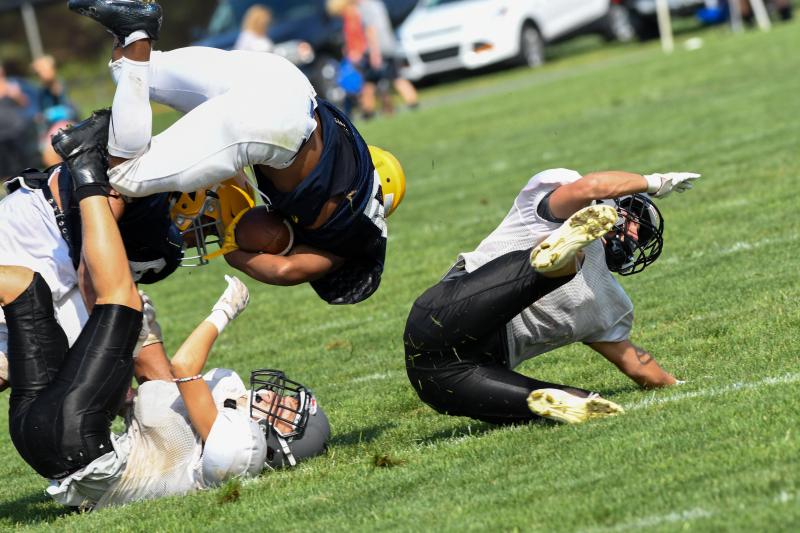 Cape football battles Sussex Tech in full-collision scrimmage
Boys talking noise – The first full-contact football scrimmage of August preseason for high schools has been a 10-and-10 setup since great-gramps wore a leather helmet and high-top cleats. The scrimmage is the big reveal to see which players have that necessary lust to initiate punishing hits on an opponent. Michigan State coach Duffy daugherty (national champs 1965-66) perhaps had the best quote: "Football isn't a contact sport. It's a sport collision. Dancing is a contact sport. " Cape scrimmaged Sussex Tech Aug. 14 on the Ravens' practice field. A JV scrimmage ran simultaneously on an adjacent field. Fans stood on the top of the away bleachers looking down on the varsity scrimmage. It was cool and it was hot. "We need to be more physical at the point of attack," Cape coach JD Maull said after his first-team offense and defense each ran 20 plays against the Ravens' No. 1s. "And we don't need players running their mouths and talking trash. Everyone is hyped for the first live scrimmage, but you have to be disciplined. We need to talk with our pads. " Cape and Sussex Tech have a combined 26 coaches for their high school programs. Cape will be at Lake Forest this Saturday, Aug. 20, scrimmaging the Spartans and the Silver Eagles of Hodgson. Sussex Tech will host Caesar Rodney in a scrimmage.
Who beat? – And so I come back from a scrimmage between two teams, Cape and Sussex Tech, holding players back, trying players at new positions, and there is no score kept unless you count Jordan baines'breakaway, resulting in a run into the end zone. But no down and distance, and no kicking game. Who beat? I have no idea. Which team got the better of it really doesn't matter. Cape has all the pieces of the puzzle, but not many spare pieces. Solid at quarterback and skilled people, and big upfront. They will drive the football. Defensively, the Vikings will need to neutralize the knock-back game of Salesianum and Sussex Central, and deal with the speed and spread offenses of Delmar and Smyrna. The Ravens showed they can scrap and scramble to the football, while on offense they moved the ball inside the tackles. Now if everyone can just "get their heads out of their butts." Sorry, I heard that twice Saturday and it took me back to my high school football days. I think coaches in 2021 need to ramp up their game.
The Village People – The blue-black skies flickered and flashed off to the west Friday night at Legends Stadium as the 9-and-under runners lined up to run 800 meters. The air was sultry and swarmy, and the races just continued. No one rocked Cape safety; a threat assessment came back "low risk." A total of $ 4,500 was raised – with more still coming in – for the Maggie Browne track scholarship to be given annually.
Front-loaded – A Cape hockey team with 12 seniors was set to begin practice on Monday, Aug. 16, with a timed two-mile run. If you ask the question: "When does a hockey player have to run two miles in a game?" the answer is "never," and if you add, "Some of the best players and top scorers in hockey are among the slowest two-milers," you would also be right. But the first day of practice begins with a two-mile run and the players know that, so there is an incentive for them to get in the best shape they can, and to show up and grind out eight laps. Makes as much sense as taking SATs, then forgetting why or for what purpose.
Snippets – The Phillies surged to first in the NL East, then went 2-4 over six games with the Dodgers and Reds. Not being pessimistic, but it looks like Atlanta is the best team in the East. I believe the Eagles are going to be better than expected. I sense the Philly football writers, bloggers and podcasters don't like head coach Nick sirianni because he's devoid of charisma, but the players like the 40-year-old head coach. Cape cross country is looking to make a run at Henlopen and state titles; evidently, a couple of talented transfers have dropped out of the sky, which can always happen in a beach resort school district. Why do so many adults remember that one person back when they were a kid who told them not to reach so high for a dream that was clearly out of reach? I run into those stories all the time. I'm just amazed how many remember the first teacher, counselor or coach who popped their balloon. Something to think about. Go on now, git!