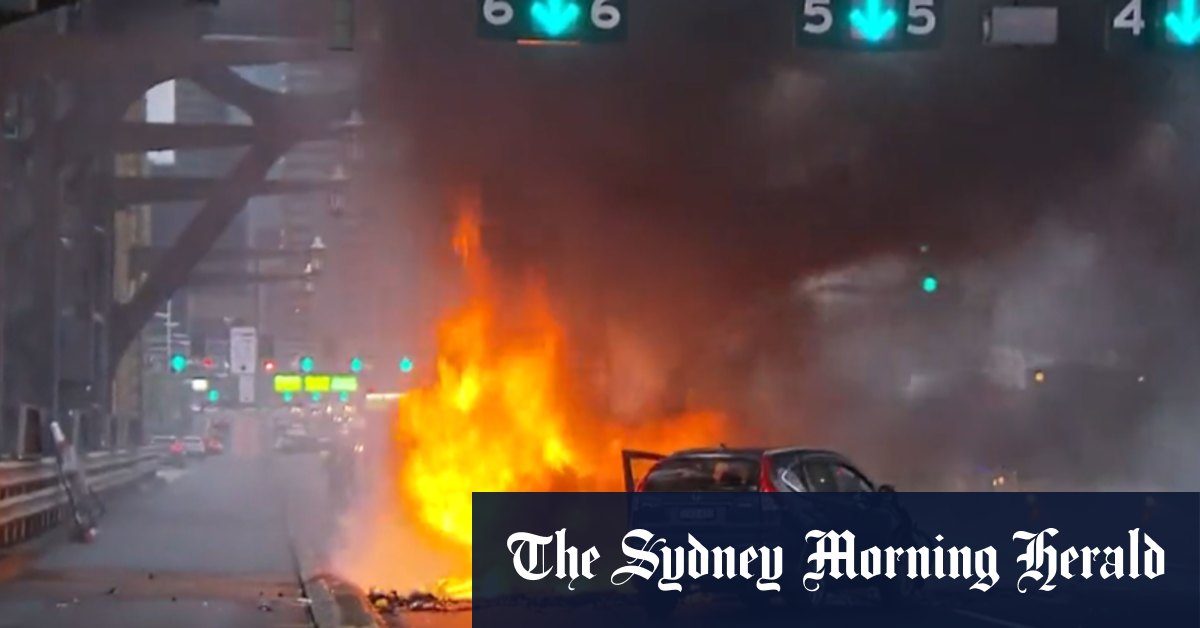 Car set on fire following collision with several vehicles
In the footage, a dark vehicle can be seen moving along an inner lane of the bridge before crossing an oncoming lane of traffic and colliding with a pickup truck. The dark vehicle tips over on its roof and bursts into flames.
Police will allege the driver of the Kluger was speeding.
"I've seen the dashcam footage. It's extremely confronting, and I can only begin to imagine what other drivers would have seen and experienced when they saw this vehicle coming towards them," Mr. Cramsie.
"We are asking anyone who may have information about the [alleged] the theft of the Kluger or the collision itself, including any dash cam footage, to come forward and contact Crime Stoppers.
The driver, a man believed to be in his 30s, was treated for a suspected head injury before being taken to Royal North Shore Hospital in serious condition.
"The driver of the Kluger has serious medical injuries," Mr Cramsie said. "Once he gets his medical clearance, we will definitely be very keen to talk to him."
A man in his twenties got stuck in his van. He was released and treated for pelvic and leg injuries before being taken to St. Vincent Hospital in serious condition. A woman in her 60s was also taken to hospital with minor injuries.
In the dash cam footage, several bystanders can be seen jumping out of their cars and rushing towards the vehicles to help them. A man in orange high visibility can be seen jumping the barrier between the walkway and the road to help.
NSW Ambulance Inspector Giles Buchanan praised passers-by for their quick thinking.
"A number of bystanders and other emergency service workers who risked their lives to help these patients are absolute heroes, we can't thank them enough," he said.
"One of the vehicles was well lit when we arrived, it was an extraordinary effort to get the patient out of the vehicle safely.
"We urge all motorists to drive in the conditions, especially in this dangerous weather."
Six paramedics and a specialist medical team, including an intensive care paramedic and a doctor, treated patients on deck.
The bridge was initially closed to all traffic, but three northbound lanes and two southbound lanes have since reopened. Road users are still advised to avoid the area and use the Port Tunnel instead as traffic remains extremely heavy.
The crash added an extra layer of chaos to the city's morning commutes after Sydneysiders were warned to avoid using trains on Monday.
Heavy rain is forecast throughout the day in Sydney, with commuters expected to experience network delays and cancellations.
"Unprecedented rainfall is impacting the rail network and forcing some trains to run at much lower speeds," a statement from Transport NSW read.
"Please only travel if absolutely necessary. Road users are also urged to avoid non-essential travel and exercise caution on the roads.
The morningThe ing Edition newsletter is our guide to the most important and interesting stories, analysis and ideas of the day. register here.