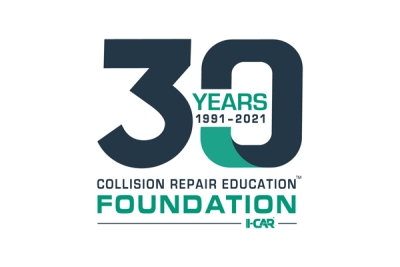 CREF Honors 21 I-CAR Volunteer Committees for Their Support of Local Collision School Programs
The Collision Repair Education Foundation(CREF) aims to support collision repair educational programs, schools and students to create skilled employees and connect them to a range of career opportunities; however, this is not possible without industry support.
Volunteer I-CAR Committees across the country avidly support CREF's initiatives by coordinating local fundraisers, sponsoring uniforms and more to benefit their local school collision programs.
At recent I-CAR Area Conferences, CREF recognized 21 I-CAR Committees for their dedication in 2021 to the future of the industry by hosting a fundraiser for their local school collision programs in 2021.
"The role of the foundation is to facilitate industry generosity and the I-CAR committees that support CREF are very generous! said the director general of CREF Brandon Eckenrode. "We recognized 21 committees for their tremendous efforts to support their local school crash programs and students in 2021 through a host of fundraising initiatives."
Each committee received a unique bowling pin that was repaired, designed and painted by colliding students across the country to be used as recognition awards.
I-CAR believes that local engagement with schools and students is so important that many of their committee goals tie into these efforts. Committees are encouraged to get involved with school advisory councils, the Adopt-a-School program, host or attend a local job fair, and work with CREF to organize a fundraising event to benefit from a local school.
"Many of our committees are heavily involved in their local schools and support CREF because it gives positive results. They love to participate with schools, which is in line with I-CAR's goal to do our part to improve the talent crisis in the collision industry," said Field Sales Manager, career and technical education of I-CAR. terry tickel. "The involvement of our committees in the Adopt-a-School program, fundraising events, and advisory board involvement allows us to…