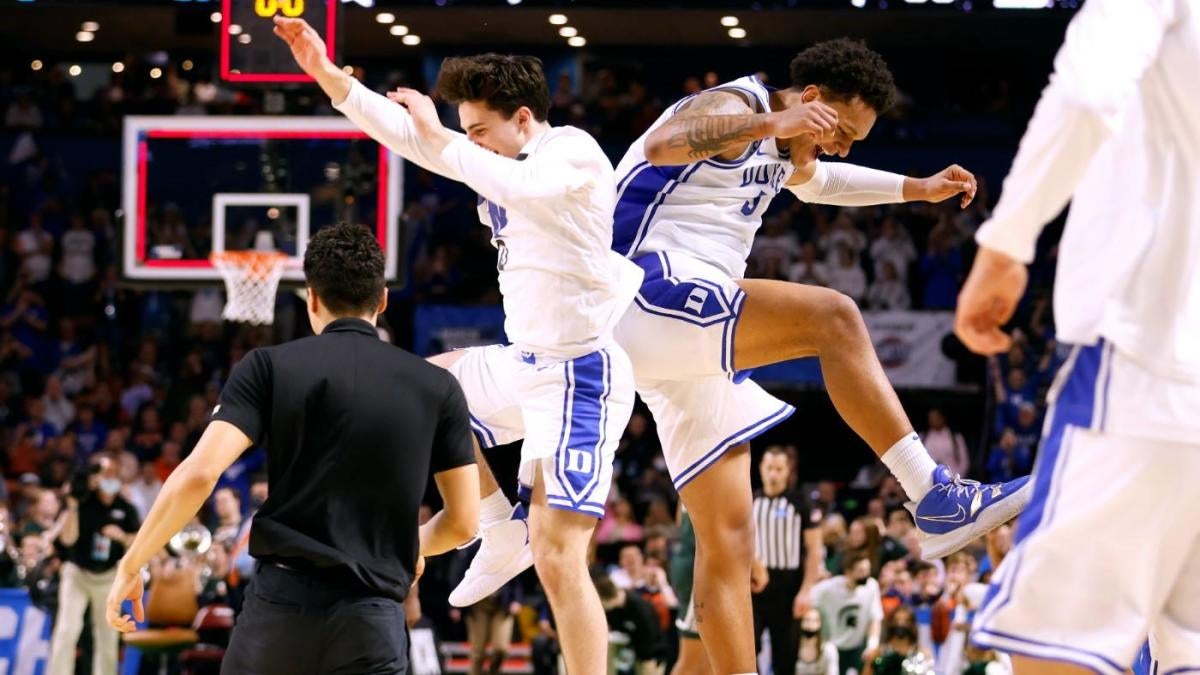 How Duke's best five basketball minutes this season saved everything as he rallied at the end of Michigan State
GREENVILLE, South Carolina — That was it. The time had really finally arrived. A South Carolina Sunday was where and when Duke needed to prove himself. Otherwise, everything would collapse.
The second-seeded Blue Devils trailed 70-65 against No. 7 Michigan State with five minutes left in this feverish, fashionable second-round game of the NCAA Tournament. . Elimination was now on the table. The prospect of Mike Krzyzewski's career ending had entered the room and hung in the air.
Michigan State didn't come to play — they came to open Duke. Tom Izzo's team looked hungry, opportunistic and alert. Deep in the second half, the Spartans showed they could mess things up for Duke and ship Krzyzewski into retirement weeks before he wanted to.
"I thought when we came down – we were young for a while there, and I wondered if we were going to stay young," Krzyzewski said.
Making matters more problematic for Duke was his gimpy starting shooter, AJ Griffin. He was reduced to a spectator after injuring what appeared to be his left ankle with 8:32 remaining and Duke 63-61. So here are these fun but flawed Blue Devils, their best shooter but a fan. MSU took its first lead since 11:11 of the first half three minutes after Griffin's injury, when Tyson Walker drained a 3-pointer to make it 68-65. A pair of foul shots from Marcus Bingham Jr. increased Sparty's lead by five points.
You've gotten to this point, you've seen the title, you've probably watched the game or caught the highlights. There are no spoilers here. The result is beyond doubt. The story of getting there is the reason we are here. Who knows where, when and how this Duke season will end? It could be Thursday in the Sweet 16, in San Francisco against 3-seeded Texas Tech. It could be in the ultimate game in New Orleans with a national championship on the line.
This mystery will be solved in a relatively short time. But that remains an unknown due to the five-minute playing period to close out Sunday's game.
"What a game," Krzyzewski said. "It was reminiscent of the Final Four games. Both teams were extinguished with the effort today. We are very proud to win this game because we beat a hell of a team, obviously as well trained as any other in the country. "
There's a chance the final five minutes of Sunday's 85-76 win over Michigan State will end up being the best and/or most important streak of Duke's campaign. It saved him on Sunday, and it could inspire him to something much bigger. The Blue Devils responded to their biggest deficit of the night by upsetting Michigan State. From the moment the game went 70-65 in favor of MSU, Duke had its best defensive streak this season, all circumstances considered.
"My guys were so tough in the last six minutes of the game," Krzyzewski said. "The last four or five minutes the defense was incredible."
How amazing? From when the game was 70-65, here's how it ended from an efficiency standpoint:
Duke points per possession: 1.80
Michigan State points per possession: 0.67
The Blue Devils went on a 15-4 streak, which also contained an 8-0 streak, and overall finished the game on a 20-6 hammer throw to advance to the regional semi-finals.
"We went to a little bit different coverage all over the court, like soft, gentle press, just so they don't have a run because they can really run," Krzyzewski said. "Then we started – we were going to go from 1 to 5. Mark (Williams) has improved so much over the year in his lateral movement that he can stay in front, and that's what he has made."
Duke needed it. He had to be pushed. He had to have his strength tested. They knew it was coming. A stop would not be enough. Two or three either. It had to be consistent. MSU was too well trained, too deep, too abundant with scorers and slashers that smelled like blood.
The situation inside the Bon Secours Wellness Arena was immediate, urgent, and Duke knew it. But they haven't mentioned the imminent possibility that this game and this season could end.
"Losing didn't come just once," Wendell Moore Jr. said.
In five minutes, Duke defended Michigan State to the tune of 2 of 9 shots and a turnover.
"You're not going to talk about losing, otherwise you're going to lose," Krzyzewski said.
Paolo Banchero showed some of his best from both sides. He started Duke's run with a layup. A few possessions later, Banchero pulled Hauser off the dribble, backed him up. A move between bullying and the first pick in the draft, Banchero gently kissed his shot off the glass to give Duke a 75-74 lead with 2:05 to go. He would never hang around again. Hauser was blocked by Banchero on an attempted left spin on the ensuing possession. For Banchero, a huge moment. A final block. Duke had gathered momentum.
"I knew once we got our foot in the door, there was no turning back," Moore said, later adding that once the team was together at the timeout of the under four, "we just looked into each other's eyes, and we knew we weren't going to lose."
Banchero had block, Williams had block, Moore had steal. And Jeremy Roach hit the 3-pointer that gave Duke a four-point lead with 1:16 to go. That inbound ball, as the shot clock expired, was the biggest blow of the second half. That put Duke up four and seemed to scare Michigan State. Roach was the guy once Griffin couldn't play. Intensified. shone.
"He wanted that ball," Krzyzewski said. "He wanted that ball. They were some of the best practices I've seen as a Duke coach, really, especially in a pressure situation."
Another big defensive play materialized on the ensuing possession, as Moore stole a distracted pass from Christie. He was right there and freshman Christie didn't even see Moore.
"The last five minutes, I think they got all the shots," Izzo said.
He is right. Duke was 5 for 5 from the field in the final five minutes; his only misses came at the foul line. As time passed, Krzyzewski and his team couldn't hold back their smiles, their relief, their joy. There was easy breathing. A second victory had come here in Greenville, which hadn't been the case five years ago, when the No. 2 Duke was upset by the No. 7 from South Carolina. Krzyzewski hadn't looked this happy in weeks. It was almost as if losing before the regional semi-finals would have been an embarrassing end to an unprecedented career – and rightfully so.
"Look, I'm 75," Krzyzewski said. "To have moments like this, you have to laugh at me. Really, how lucky can you be to be in there? And I want to share it. I don't want to sit down and say, 'You guys Enjoy it.' I want to be a little party. That's the pleasure I have, I've had for 47 years. Today was one of the very good days."
What a way, by the way, for K to get the No. 1,200 career win. He's now just shy of 100 NCAA Tournament wins. The two record his, of course. And may turn out to be forever. It is also his 26th Sweet 16 trip, another record.
Krzyzewski became emotional in his opening statement to the media, as Banchero, Trevor Keels, Moore, Roach and Williams sat next to him.
"I'm incredibly proud of my guys," Krzyzewski said in a shaky tone. "It — it was — you guys were great, man. I'm really proud to be your coach. It had nothing to do with training for the last four or five minutes. It had everything to do with heart and unity. They followed their hearts, and God bless them. We're in the Sweet 16."
The last face-off between Krzyzewski and Izzo went fascinatingly. Duke retired late, but it was a questionable contest for 39 of his 40 minutes. The potential was there for it all to end for Duke and K, for Michigan State to go bad. Instead, Krzyzewski's players showed up and put on as strong and convincing a performance as they have done all season. Seeing them in that stretch had to remind you that Duke, when he finds that area, is as dangerous as any team in the country.
San Francisco is waiting for you.