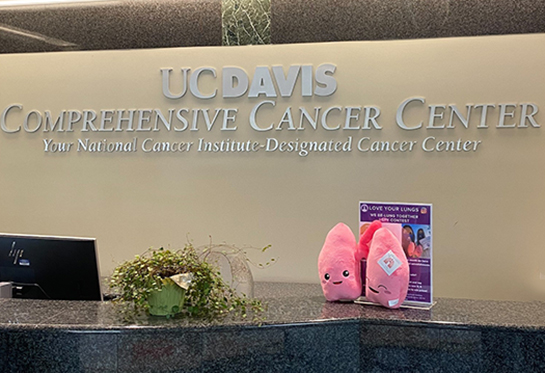 Love Your Lungs I-Spy the Plushie contest to raise awareness about lung cancer
(SACRAMENTO)
On Lung Cancer Awareness Month in November, the Sacramento Lung Health Coalition, led by UC Davis Comprehensive Cancer Center, decided to engage the whole community. The group's Love Your Lungs education campaign will feature a fun new contest called I-Spy the plush. The pink fluffy plush toys in the shape of lungs have been placed in every establishment in the Sacramento area and the idea is to find them!
To enter the contest and become eligible to win Love Your Lungs loot, follow these simple steps:
Follow the coalition's official Instagram account @loveyourlungssac.
If you spot pink lunged soft toys in town, post a photo of yourself with the pair of pink lunged soft toys and add the hashtag #webeLUNGtogether.
Tag both where you saw it and @loveyourlungssac.
So far, the stuffed animals have been spotted at Old Soul in Oak Park, Century Theaters in Arden and UC Davis Comprehensive Cancer Center, and shared on social media.
"We will be placing plush and posting on Instagram throughout the month of November and checking the hashtag #webeLUNGtogether to find out where people are posing with the plush," said Julie Dang, executive director of the Office of Outreach and Awareness. UC Davis Cancer Center community engagement.
Lung cancer is the deadliest of all cancers, for both men and women. Dang says it's important that new approaches, including social media campaigns, are used to make sure people of all ages are aware of the risks of lung cancer and why it's important to take care of it. your lung health.
The competition is the official launch of the local coalition's Love Your Lungs website. The website has information on how to quit smoking, lung cancer screenings, and how to keep the lungs healthy.
"Essentially, the website is a 'hub' for all things lung health in Sacramento," Dang said.
The American Cancer Society Great American Smoke Out will take place on November 18. Get all the help you need to quit smoking or vape by checking out Love Your Lungs, and inspire family and friends to learn more about lung health by participating in the I-Spy the plush competition!
UC Davis Comprehensive Cancer Center
UC Davis Comprehensive Cancer Center is the only National Cancer Institute designated center serving the Central Valley and Interior of Northern California, an area of ​​over 6 million people. Its specialists provide compassionate and comprehensive care to more than 100,000 adults and children each year and provide access to more than 200 active clinical trials at any time. Its innovative research program engages more than 240 UC Davis scientists who work collaboratively to advance the discovery of new tools to diagnose and treat cancer. Patients have access to cutting-edge care, including immunotherapy and other targeted treatments. Its office of community outreach and engagement tackles disparities in cancer outcomes among diverse populations, and the cancer center offers comprehensive education and workforce development programs for the next generation of people. clinicians and scientists. For more information, visit cancer.ucdavis.edu.