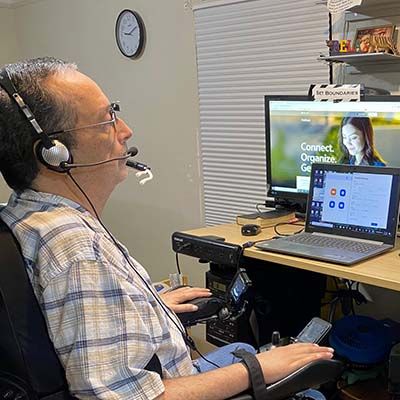 Reviews | Reform Michigan Auto Insurance Law Before More of Us Die
Here is my sad story.
Prior to July 2021, I resided in Detroit in a modified home that I had owned for 28 years. I lived alone with the help of nurses and assistants provided by no-fault insurance. I thrived and worked full-time as a contract IT systems support employee for a large automotive company. I was active in my church and sang in the choir. I was an outdoor sportsman who loved hunting and fishing. I participated in my community and mentored children. I have also mentored people with disabilities and helped them get involved in activities and provided them with IT support.
On July 1, my life collapsed. That's when a provision of Michigan's new auto insurance law went into effect that cuts care for survivors of catastrophic accidents like me by 45 percent.
I had to move from my home to a nursing home/rehabilitation center because we couldn't find any assistants to look after me with the 45% reduction in reimbursements as they would only earn $12 off time. Since then, I've been back and forth between rehab centers, a brief ride home, and hospitals. I have had urinary tract infections and sepsis which have hospitalized me several times and I have been close to death twice. I contracted COVID and ended up in the intensive care unit. I also suffered painful and mind-blowing drug withdrawal that was denied to me due to insufficient documentation.
During the time I was in the hospital, I was in a room where I couldn't adjust the temperature; the body of a quadriplegic must be regulated by the ambient temperature of the room. We cannot generate heat or sweat to warm or cool ourselves. In this same establishment, they did not have enough help to help me; there were times when i called for help and had no answer for over 30 minutes. Also the way they positioned the bed caused my hands, arms, testicles, legs and pretty much my whole body to swell due to the intravenous fluid entering my body and it damaged some of my organs.
For work, I went on short-term sick leave because it was impossible to work in this situation. In mid-September, I attempted to apply for long-term sick leave. I was informed that I had been fired. Nobody told me.
Now, because of the 45% reduction in reimbursements, the facilities I have been sent to are understaffed and cannot help me when I need help. Sometimes it's like being a prisoner. I ask for water and they put a cup with a straw on the table and leave the room; I can't drink without help. The lack of staff pushes them to rush to bring people dressed and in wheelchairs. I am unable to direct the staff on correct dressing techniques and as a result things like the legs of my zipped pants are twisted which can ultimately cause pressure sores. I cannot contact someone in an emergency and ask them to respond immediately. I constantly fear for my life in the event of choking, fainting, or other life-threatening events that could cost me my life.
I recently had to have surgery to help take care of myself and now I wear a urine drainage bag every day 24 hours a day. I am planning another surgery to help distribute the right amount medicine for my spasms with a baclofen pump. Both of these surgeries will help prevent but not eliminate life-threatening situations. I wouldn't have needed them if my care hadn't been taken away.
I don't understand why our government would do this to their most vulnerable. The 45% cut has put providers and therapists out of business, cut thousands of jobs, and left survivors and families physically, emotionally and financially drained.
Please do something before more of us die.